Police called his use of the drone "an act of violence."
Source: Drone Journalist Faces 7 Years in Prison for Filming Dakota Pipeline Protests – Motherboard
President Donald Trump engaged in some sharp-elbowed diplomacy Thursday at the NATO summit — literally.
Source: President Trump Throws His Weight Around at NATO Summit – NBC News
A program that handles more than $1 trillion in debt for 43 million students is in play, and the head of it has resigned in protest.
Source: Trump Administration Considers Moving Student Loans from Education Department to Treasury – NYTimes.com
Rachel Maddow is breaking the news that a criminal subpoena has been issued about a loan that former Trump campaign manager Paul Manafort took out with a Trump, business associate.
Source: Rachel Maddow Breaks Huge News About A New Criminal Subpoena Issued In The Russia Scandal
A troubling new report says that James Comey may have intervened in the 2016 presidential election because he was misled by fake Russian document about an agreement between the Clinton campaign and the Department of Justice on whether or not Hillary Clinton revealed classified information with her u
Source: James Comey May Have Tipped The Election To Trump Based On A Fake Russian Document
"These arms sales extend a reckless policy from the Obama administration and prior administrations."
Source: Rep. Justin Amash leads a bipartisan group who want to block the Saudi arms deal | Rare
People in Europe really don't like Donald Trump. While he may claim otherwise, his approval ratings there are abysmal and if you don't believe the polls after the 2016 elections we can't blame you, but that being said, we let the facts speak for themselves. When Obama showed up in Germany on the same day […]
Source: Obama Steals the show From Trump in Europe! – Die Hard Democrat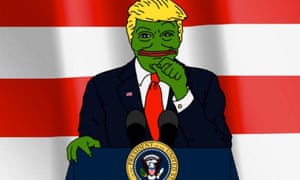 Experts say the 'alt-right' have stormed mainstream consciousness by using 'humor' and ambiguity as tactics to wrong-foot their opponents
Source: Hiding in plain sight: how the 'alt-right' is weaponizing irony to spread fascism | Technology | The Guardian